ETHS - Evanston Township High School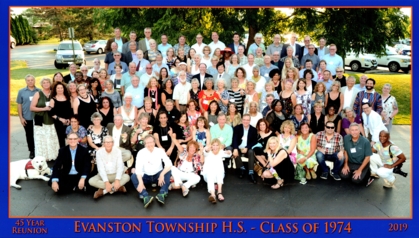 Welcome to the official web site for the ETHS Class of 1974 Reunion Association.
The most important thing for you to do while here is to join the site. Doing so and providing basic contact information ensures that we'll be able to communicate with you. Just visit the link to begin your registration.

Please note that your information on this site is confidential, and will never be shared or sold to any commercial enterprise. You may choose to share information with fellow classmates, but that is entirely your own decision.
While we do our best to reach out to everyone, many of our classmates are still missing. Please encourage all former classmates in your circle to visit this site and join.
Your ETHS Class of 1974 Reunion Association Planning Committee
ANNOUNCEMENTS
* * * NOTE REVISED TIME * * *



Annual Meeting Notice
ETHS Class of 1974 Reunion Association
Sunday, January 17, 2021

1:00 – 3:00 p.m. CST

All members of the ETHS Class of 1974 Reunion Association are invited to attend the Association's annual meeting by teleconference on Sunday afternoon, January 17, 2021, from 1:00 p.m. until (no later than) 3:00 p.m. CST. All members of the ETHS class of 1974 are automatically members of the Association.

A detailed agenda will be e-mailed to all registered particpants a few days before the meeting.

Annual Meeting (preliminary) agenda:
Call to order, welcome and introduction to the Association
Approval of today's agenda
Approval of minutes from January 25. 2020 annual meeting
Executive Committee report
Treasurer's report
Membership Committee report
Other items as proposed in advance of the meeting
Open discussion and new business
Adjourn
Those wishing to attend must RSVP to Kate Morand at classmates@eths1974.com. Registrants will be sent the final agenda and teleconference instructions in advance of the meeting. Questions or proposed agenda items should also be sent to Kate.
ETHS Class of 1974 Reunion Association
Minutes of the Annual Meeting of January 25, 2020
Attendees via teleconference
Kate Morand
Robert S. Gold
Ellen Byrne
Wendy Oldeen
Kathy Kline Moore
Diane Altshuler Hermanek
Dean Naritoku
Adrienne Schwarzbach Johnson
Maria Svolos Gebhard
The meeting was called to order at 12:08 p.m. CST.
Kate Morand welcomed and reminded the group that the Reunion Association was formed with the purpose of organizing and running reunions in accordance with a Constitution, By-Laws, to be executed by Officers with specific roles. It was mentioned that the By-Laws need to be updated.
Robert Gold offered a motion to approve the agenda which was seconded by Maria Gebhard with no ensuing discussion. The motion passed unanimously.
Maria Gebhard offered a motion to approve the minutes from the 2019 Annual Meeting that are posted on the ETHS1974.com web page. This motion was seconded by Diane Hermanek. There were no questions and no discussion. The motion passed unanimously.
Election of Officers
Kathy Kline opened the discussion about a desire to have a person of color on the Board. After some discussion and a reminder of past history, it was suggested that we form a sub-committee to pursue this further.
The elections to be held today will be for five-year terms of officers to expire on the date of the Annual Association Meeting in January of 2025.
The following officers were elected unanimously to five-year terms beginning January 25, 2020:
Kate Morand, President
Robert S. Gold, Vice President
Wendy Oldeen, Treasurer
Maria Svolos Gebhard, Secretary
Ellen Byrne, Logistics Chair
Welcome to the Executive Committee, Maria!
Treasurer's Report
Robert Gold thanked Bill Lemieux for his previous service in the role of Treasurer and proceeded to give the Treasurers' report. Our financial position is sound with no outstanding debts. We have more money than we started off the year with in 2019. We have about $4,400 in the Bank in addition to some T-Shirt inventory, bringing our total assets to just under $5,000.00. $401.00 is earmarked for 2024 grants for tickets from the directed donations received last year. We took in approximately $18,000.00 through ticket and T shirt sales. We spent approximately $16,600.00 on reunion expenses. We increased our assets by about $1,500.00. There were no questions.
Executive Committee Report
Kate spoke about the Golf Club and prior history of possible discrimination and believes that the Board satisfactorily addressed this during the Reunion. Some of the concerns were indeed rumors and with research found to be invalid. Ellen mentioned that she is willing to provide some backstory on the Golf Club if it is needed.
Kate mentioned that in the past we have had a membership position but that continuing to look for classmates is no longer as high of a priority. For the record it was mentioned that we have a priority to ensure we are well represented by classmates of color.
Post-Reunion Survey
Prior to going over the survey results, Bob Gold mentioned that we now have 463 classmates on our web site, an increase of 36 from May 2017. 657 have not joined and 93 are deceased. There are 395 on our FaceBook page. Bottom line, we have good exposure.
Bob Gold also reported that 83 people responded to the survey. 58 of the 83 attended the reunion while 24 of the individuals who responded did not attend the reunion. We had an overall satisfaction rate of 86%. 5 attendees were neutral with 3 mentioning they were dissatisfied. When asked the question what we could do to make things better there were sporadic comments showing no trends.
Lessons learned form the 2019 Post-Reunion Survey were:
Saturday night was a big hit. 86% liked the food. "We hit a home run".
As far as we know the venue did not stop anyone from attending the reunion.
The Friday night events had mixed results.
The Pub Crawl was quite well received and should be considered for the 50th Reunion.
Robert Gold and and Kate Morand asked if anyone was interested in joining the Committee, noting that we would not be active until 2023. Diane and Kathy indicated their desire to join the working Committee.
There was no other business.
Kate Morand made a motion to adjourn the Meeting. This motion was seconded by Maria Gebhard. No discussion was held and all were in favor.
The meeting was adjourned at 1:13 p.m.