ETHS - Evanston Township High School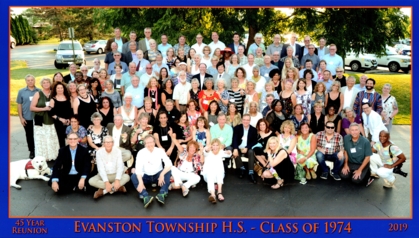 Welcome to the official web site for the ETHS Class of 1974 Reunion Association.
The most important thing for you to do while here is to join the site. Doing so and providing basic contact information ensures that we'll be able to communicate with you. Just visit the link to begin your registration.

Please note that your information on this site is confidential, and will never be shared or sold to any commercial enterprise. You may choose to share information with fellow classmates, but that is entirely your own decision.
While we do our best to reach out to everyone, many of our classmates are still missing. Please encourage all former classmates in your circle to visit this site and join.
Your ETHS Class of 1974 Reunion Association Planning Committee
ANNOUNCEMENTS
•

Annual Meeting Notice
ETHS Class of 1974 Reunion Association
Saturday, January 25, 2020

12:00 – 2:00 p.m. CST

All members of the ETHS Class of 1974 Reunion Association are invited to attend the Association's annual meeting by teleconference on Saturday afternoon, January 25, 2019, from 12:00 p.m. until (no later than) 2:00 p.m. CST. All members of the ETHS class of 1974 are automatically members of the Association.

A detailed agenda will be e-mailed to all registered particpants a few days before the meeting.

Annual Meeting (preliminary) agenda:

Call to order, welcome and introduction to the Association
Approval of today's agenda
Approval of minutes from January 26, 2019 annual meeting
Election of officers to five year terms
Executive Committee report
Treasurer's report
Membership Committee report
Recap of post reunion membership survey findings
Other items as proposed in advance of the meeting
Open discussion and new business
Adjourn

Those wishing to attend this meeting must RSVP to Kate Morand at kate@eths1974.com . Registrants will be sent the final agenda teleconference instructions in advance of the meeting. Questions or proposed agenda items should also be sent to Kate.