ETHS - Evanston Township High School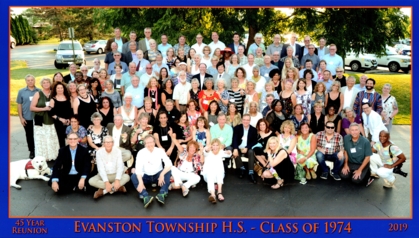 Welcome to the official web site for the ETHS Class of 1974 Reunion Association.
The most important thing for you to do while here is to join the site. Doing so and providing basic contact information ensures that we'll be able to communicate with you. Just visit the link to begin your registration.

Please note that your information on this site is confidential, and will never be shared or sold to any commercial enterprise. You may choose to share information with fellow classmates, but that is entirely your own decision.
While we do our best to reach out to everyone, many of our classmates are still missing. Please encourage all former classmates in your circle to visit this site and join.
Your ETHS Class of 1974 Reunion Association Planning Committee