ETHS - Evanston Township High School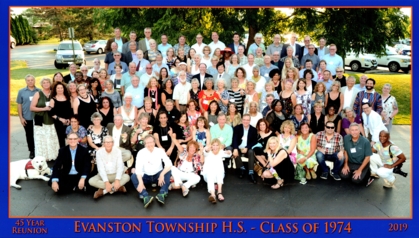 Welcome to the official web site for the ETHS Class of 1974 Reunion Association.
The most important thing for you to do while here is to join the site. Doing so and providing basic contact information ensures that we'll be able to communicate with you. Just visit the link to begin your registration.

Please note that your information on this site is confidential, and will never be shared or sold to any commercial enterprise. You may choose to share information with fellow classmates, but that is entirely your own decision.
While we do our best to reach out to everyone, many of our classmates are still missing. Please encourage all former classmates in your circle to visit this site and join.
Your ETHS Class of 1974 Reunion Association Planning Committee
ANNOUNCEMENTS
•

Annual Meeting Notice
ETHS Class of 1974 Reunion Association
Saturday, January 25, 2020

12:00 – 2:00 p.m. CST

All members of the ETHS Class of 1974 Reunion Association are invited to attend the Association's annual meeting by teleconference on Saturday afternoon, January 25, 2019, from 12:00 p.m. until (no later than) 2:00 p.m. CST. All members of the ETHS class of 1974 are automatically members of the Association.

A detailed agenda will be e-mailed to all registered particpants a few days before the meeting.

Annual Meeting (preliminary) agenda:

Call to order, welcome and introduction to the Association
Approval of today's agenda
Approval of minutes from January 26, 2019 annual meeting
Election of officers to five year terms
Executive Committee report
Treasurer's report
Membership Committee report
Recap of post reunion membership survey findings
Other items as proposed in advance of the meeting
Open discussion and new business
Adjourn

Those wishing to attend this meeting must RSVP to Kate Morand at kate@eths1974.com . Registrants will be sent the final agenda teleconference instructions in advance of the meeting. Questions or proposed agenda items should also be sent to Kate.

•

Minutes of the Annual Meeting of the ETHS Class of 1974 Reunion Association - January 26, 2019

Attendees:

Kate Morand
Bob Gold
Bill Lemieux
Wendy Oldeen
Ellen Byrne
Jada Robitalle
Suzanne Artist
Adrienne Johnson
Peter Martin
Jody Miller
Mark _________?
Matthew Robinson
Mary Gro
Abbi Samuels
Joanne Silvertrust

Introductions

Membership levels –
All graduates or others who were in school with us
Planning Committee – help with various events and focused events
Executive Board – officers of the Association

Kate and Bob – co-Chairs
Wendy – Secretary
Bill – Treasurer
Ellen – Logistics Chair

Committee Reports:

Membership – as of a few days ago we have 434 individuals who have joined the website. This will e the official mode of communication. There are 25 people whose emails are invalid. We are actively trying to reconnect with them. There are 626 with no verified contact information. 86 members have passed away that we know of. Please use the following email address for death notifications.

The Facebook group has 348 people included. This is a moderated group where posts are vetted. Thee are members of the Facebook page that have not joined the web site. We continue to try to get people to join the web site. If you know somebody ask them to join the web site. Our information will never be sold to anyone including the ETHS alumni group. We need more people to join the planning committee to help with the Friday and Saturday events. We also need people to coordinate focused events. We will only publicize these events.

Treasurers Report:

We have $1,675 in our bank account, less an $800 loan to Bill for the T shirts that Kate has for sale. The T shirts are an asset. We made a down payment for Saturday night. We are solvent. $320 in revenue from the shirt sales. Balance is 280.

Reunion:

We made decisions based on survey results.

Bob spoke about the most recent survey. Our reunion is the weekend of the 28th of July. Just under 100 people responded.

67% of the respondents said they would attend. Another 20% wanted to attend but were not sure if they could.

More than 50% were interested in a block of hotel rooms. We are talking to two hotels. # of rooms is the question mark. Reserve rooms as soon as we roll it out.

We added another event based on the survey. Almost 40 people were interested in the pub crawl in downtown Evanston. Identify 2-3 different venues where people will meet. Big variety of answers on food for the Friday event. Many were interested in elementary and junior high events on Saturday afternoon or Sunday morning. 9 people were identified who said they would help with those events. 24 were interested in funding for people needing financial help to attend. Many volunteered to help each night with 12 agreeing to help both nights.

Last summer a group visited venues. Based on those visits we chose the venues.

Ellen presented an analysis of the various venues and we chose the Levy Center and the Evanston Golf Club for Saturday night.

Both stood out as the best fit for our needs.

The date was through the survey results.

The survey said we should keep costs down as much as possible.

Friday will be a meet and greet. The minimum is 3 hours We need set-up and cleanup time. 4:15 is the earliest we can arrive for set-up

Saturday night - At the Evanston Golf Club we have the entire second floor.

There are many smaller and large rooms to sit and mingle. It is luxurious, open and spacious and by far the most affordable with lots of parking. We can run shuttles from the hotel. We are trying to finalize the menu and accommodate as many tastes as possible. There is an elevator.

No questions.

Bill – Hotels. Bill made a site visit to the residence Inn, Wilmette. Newer building. The rooms they offer to us are the studio suites and than the 1 bedrooms. King size bed with a pullout couch a full kitchen and with stand up showers, some bathtubs. American breakfast can accommodate 60 people. Initial bid is for 20 rooms. 3 nights. With 25 room nights they throw in the free shuttle for the Saturday night venue. 30 day in advance commitment. Reservations through the sales manager. Pet friendly. $150 plus 16.75

Golf Outing – Closer to the event it will pick up momentum. John wants to help. We can always do something at Canal Shores. If EGC gives us a limited number of times, they will fill quickly. Normally there are 16-20 golfers.

Chris - Historian in Evanston. Matthew wondered if we were going to try to organize this. We are interested in pursing this.

Tour of the High School - Kate has been in contact with the ETHS alumni association. They are just not going to let us do a tour. We suggested Thursday, which is the last day of summer school, they are not willing to work with us on a tour inside the building. Kate will try to see if she can organize something outside the alumni association. Kate would like to be the point for the tour.

Ticket Pricing:

Trying to be mindful of keeping costs down and have it be affordable and similar to five years ago

Friday only - $30 walk-in $45
Weekend ticket - $95 deadline 5 weeks before – after that $120

Sale date of 3/1

Using Eventbrite

No cash will be accepted.

We had a lot of walk ups last year. Early registration will allow us to give better numbers to the venues

No refunds for cancelled tickets.

We need to pay 30 days in advance. We want it to be a breakeven event.

New Business:

Any questions? Ideas?

Bob – at registration time we will be advising those buying tickets that we will publicize who buys a ticket unless they explicitly opt out

Knowing an old friend is coming may result in someone deciding to come.

Pub Crawl – 7/25

Levy – 7/26

EGC 7/27

Sunday morning events, 7/28

Information in on web site and facebook page.

Bob offers a motion to adjourn. Seconded by Peter.

All in favor.

Meeting ends at 1:46.