ETHS - Evanston Township High School

Our 45th reunion will take place from
Thursday, July 25th through Sunday, July 28th, 2019
(details below)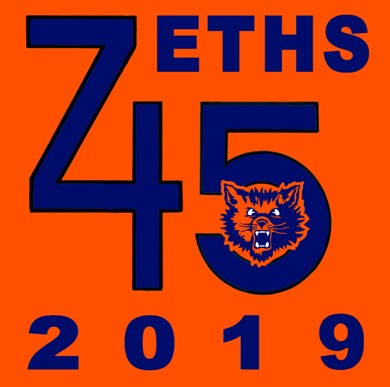 Welcome to the official web site for the ETHS class of 1974 reunion!

The most important thing for you to do while here is to join the site. Doing so and providing basic contact information ensures that we'll be able to communicate with you. Just visit the link to begin your registration.

Please note that your information on this site is confidential, and will never be shared or sold to any commercial enterprise. You may choose to share information with fellow classmates, but that is entirely your own decision.
While we're doing our best to reach out to everyone, many of our classmates are still missing. Please encourage all former classmates in your circle to visit this site and join.
Your ETHS Class of 1974 Reunion Association Planning Committee
ANNOUNCEMENTS
•

Hey everybody: Save the date.

Our Timber Ridge Reunion Breakfast will be on Sunday July 28,2019. We will meet in Evanston at a restaurant to be determined.

Let me know if you are attending so i can have a table for all of us Jozzzs@comcast.net.
Even if you did not attend Timber Ridge you are welcome to join us.

Joanne Silvertrust

Happy Healthy 2019
Party on

•

Mark Your Calendar!

The planning committee of your ETHS Class of 1974 Reunion Association is pleased to announce its recent decisions pertaining to our 45th reunion in 2019. The reunion will be held on the weekend of Thursday, July 25th through Sunday, July 28th, 2019 (which is next year), with optional events each day. These include:

Thursday evening July 25th, 2019: Downtown Evanston pub crawl for local and arriving out of town alumni.
Friday evening, July 26th, 2019: Informal class gathering at the Levy Center on Dodge in Evanston.
Saturday daytime, July 27th, 2019: local activities that may include a golf outing, etc. Volunteers are needed to help organize these events.
Saturday evening, July 27th, 2019: Main Event gathering at the Evanston Golf Club on Dempster in Skokie.
Sunday daytime: July 28th, 2019: Separate group reunions: elementary and middle schools, athletic, performing arts, etc. Volunteers are needed to help organize these events.

The planning committee has been working diligently for many months to reach these date and venue decisions, guided by your surveys responses after the 40th reunion and last year. We're especially excited about the new venues we've chosen for the Friday and Saturday events, which each offer unique and appealing features.

Our aim to maximize attendance at our 45th reunion is supported the date selection, our efforts for affordable ticket costs, and the hope that with over 18 months of advance notice, everyone will be better able to fit this exciting weekend into their summer schedules. And of course, if you're in contact with classmates who are not yet registered here at ETHS1974.com, please encourage them to do so.

This milestone marks the beginning of our event planning efforts, and we hope that you will step up and join our planning committee. We meet periodically by teleconference, and have members from all over the country. Please send an e-mail to Kate@ETHS1974.com to volunteer.

We're looking forward to seeing you next year!

•

Minutes

Reunion Association Annual Meeting

January 27th, 2018

Attendees:

Kate Morand, President (Chair)
Robert Gold, Vice President (Co-Chair)
Wendy Oldeen, Secretary
Bill Lemieux, Treasurer
Ellen Byrne, Logistics Committee Chair
Suzanne Arist, Committee Member
Adrienne Johnson, Committee Member
Jada Robitallie, Committee Member
Peter Martin, Committee Member
Marel Sitron, Member of the Class
Matthew Robinson, Member of the Class
Louise Bruggeman, Member of the Class

Per the Association Charter, there shall be an Annual Meeting of the Association, open to all members of the ETHS Class of 1974. The meeting is to be held the last weekend in January.

The Meeting came to order at 12:03 p.m. CST. Kate reviewed and sought approval of the agenda and the minutes of the 2017 annual meeting. Both received no objections and were approved unanimously.

Kate reminded the group of the three levels of participation:

Members of the Association
The Planning Committee
Executive Board (Kate, Bob, Bill, Wendy and Ellen)

Executive Committee Reports

Membership Committee

Kate continues to handle the Membership Committee duties. She reported that we continue to add members, slow and steady, to the web site and the Facebook page. 429 classmates have joined the web site. 703 have not joined. 20 classmates are in email bounce back mode. Kate has been contacting these individuals and three have provided corrected email addresses. We will continue to obtain correct emails for this group.

Earlier in 2017 the Committee was provided with the names of people to find. This was not very successful. Since 2013 we have been aggressively attempting to find missing classmates and it has been acknowledged that some of our classmates just do not want to be found or do not use social media.

There was a suggestion to appeal to Classmates through the Facebook page, "You Know You From Evanston IL, When?"

We need a new chair for the Membership Committee who will commit to 3-4 calls per year. Matt and Adrienne agreed to co-chair the Committee. There was a motion to appoint Adrienne and Matt as Co-Chairs. This was seconded with no discussion and all were in favor. They will get together with Kate within the week.

Treasurer's Report

North Shore Community Bank & Trust in Wilmette is where we do our banking. All transactions are reviewed and approved by the Executive Board. Wendy is the secondary signer. We started 2017 with $2,461.58. There was one transaction, $106.19 which was spent to extend our ETHS1974.com domain name registration until 2024. The current balance in the account is $2,355.39.

There was a motion to instruct the Executive Committee to consider a 2018 donation to the ETHS Educational Foundation later this year. It was agreed that we will consider a donation of up to $300 subsequent to payment of deposits required for the various venues. The motion was seconded and all were in favor with no discussion.

There was a motion to approve the Treasurer's Report. It was seconded and approved unanimously.

Logistics Committee Report

The survey results provided valuable feedback that we used while selecting the proposed dates and venues. We have chosen the last weekend in July, similar to the 2014 reunion. Thursday, July 25th through Sunday, July 28th. There was a motion to approve the dates. The motion was seconded and there was no discussion with all members present voting in favor.

In the summer of 2017, Logistic Committee Members Bob Gold, Wendy Oldeen, Ellen Byrne and Suzanne Arist toured venues over a day and half. The criteria we looked at was affordability, social engagement and one that would offer a range of experiences. There were three categories:

Large Gathering Venues – 250-300 people
Middle Size Venues for small gatherings
Restaurants, Bars, Patios suitable for a Pub Crawl

For the large venue, we were looking for affordable, informal, easy access, traditional club style but not dress up. We ruled out the Women's Club, the Ballroom at the Merion, the Hilton Garden Inn and the old Orrington Hotel (now a Hilton). We discussed outdoor venues but there is concern over the number of people needed to support an outdoor venue and the uncertainty of the weather. Some of the options considered would be cost prohibitive. The Levy Center and the Evanston Golf Club fell out as the best.

Friday night at the Levy Center would be BYOB and start in the late afternoon to facilitate groups spinning off for dinner elsewhere. It is very affordable and there is plenty of parking. The decision about whether we want to use the Gym and kitchen in addition to the outdoor area and small meeting rooms is being deferred.

Under our proposal, the Saturday night event would be at the Evanston Golf Club. We would have use of the entire second floor. There is plenty of free parking. There is a $1,500 base fee for the night and a minimum of $10,000 for food and beverage. A cash bar and buffet was the suggestion based on the survey and previous experience. An early estimate of the cost is in the range of $70-$75 per person.

Ellen moved to approve the Levy Center for Friday night and the Evanston Golf Club for Saturday. The motion was seconded. All were in favor with the exception of Marel's objection to the Levy Center for Friday night. Discussion was held. It was agreed that we needed to put down a deposit to reserve the date as soon as possible.

New Business

Bob brought up the tax exempt status of our organization. He reiterated the need to find an attorney in Illinois who would know how to get this done. We are looking for 501(c) (3) status. We need someone to make it happen. Bill agreed to call Steve Jambois, Class of '75 for information.

Bob moved that we adjourn at 1:50 p.m. The motion was seconded and the Motion carried. Adjourn 1:50 p.m.

•

2019 Reunion Planning Survey Findings

Background

The survey was officially available from 13-24 February 2017, but later responses are included.
The survey was administered through Class Creator (our web site host), and was available to all Association members who have joined the web site.
The response rate was over 30% of the 401 eligible Association members.
The survey consisted of 14 multiple choice and 6 open-ended questions, which were vetted and approved by the Association during its 2017 Annual Meeting on Febrary 11th.
The survey was conducted to guide the Association's reunion planning committee when planning the 2019 45th reunion.

Attendence and Travel

Over 80% of respondents have attended at least one prior reunion.
Three quarters of respondents say they're likely to attend the 2019 reunion.
Event date, cost, and knowledge of who else is attending are key factors affecting 2019 attendence decision.

Events, Food, and Beverage

A multiple event plan was preferred by 74% of respondents over a single event plan.
More than twice as many (63%) of respondents prefer appetizer-only buffet service over (26%) preferring a full meal. A wide variety of feedback on food choices was received.
A majority of respondents preferred a cash bar with no drinks included in the admission price.

Venue

No clear venue preference emerged from a wide range of suggestions received.
Respondents are open to non-traditional venues.

Activities and Miscellaneous

No clear trends emerged from the many responses received to questions about activity preferences.
Attendees value conversation over all other activities, and seek both casual and formal events.
Only about half of respondents want to have recorded music with a DJ, while few want a live band or dancing.
Nearly all respondents want to see the names of those attending on the web site, but most would give those purchasing tickets a choice to opt-out of having their names posted.

Schedule

Nearly 70% of those responding want the 2019 reunion to take place during summer months.
Fewer than 10% of those responding wish for the reunion to be scheduled along with ETHS Homecoming activities.

These results were reviewed with the Association Planning Committee in a teleconference on May 20th, 2017.