ETHS - Evanston Township High School

What are you doing September 13-15, 2024?
You're coming to reunite, rekindle and relive your ETown and ETHS experiences with your classmates from ETHS (as well as your elementary and middle schools) in a variety of events, all coordinated and planned by your classmates. Come one and come all!

We have secured the beautiful Lakeview Room at Glenview Park District's Park Center facility for our Saturday night main event on September 14, 2024. Other events will be revealed and detailed as time goes on. Please put it in your calendar now. Contact classmates that you want to see and make sure they've joined our website. Use our #ETHS1974Cheersto50Years hashtag when you post on social media.

We would love to have you volunteer to plan and participate. Let us know your interests, or ask any questions by emailing us at reunion@ETHS1974.com.
See you next year!

Your ETHS Class of 1974 Reunion Association Planning Committee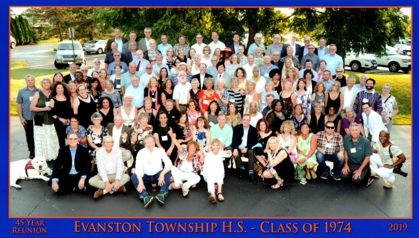 Welcome to the official web site for the ETHS Class of 1974 Reunion Association.
The most important thing for you to do while here is to join the site. Doing so and providing basic contact information ensures that we'll be able to communicate with you. Just visit the link to begin your registration.

Please note that your information on this site is confidential, and will never be shared or sold to any commercial enterprise. You may choose to share information with fellow classmates, but that is entirely your own decision.
While we do our best to reach out to everyone, many of our classmates are still missing. Please encourage all former classmates in your circle to visit this site and join.
Your ETHS Class of 1974 Reunion Association Planning Committee
ANNOUNCEMENTS
ETHS Class of 1974 Reunion Association
Minutes of the 2023 Annual Meeting
Sunday 22 January 2023
In attendance via teleconference:
Ellen Byrne, Maria Gebhard, Robert Gold, Diane Hermanek, Adrienne Schwarzbach Johnson,
Thomas Klamm, Audrey Bridges LeGrand, Mark Lipowicz, Richard Lynn, Kate Morand, Dean Naritoku, Myrna Joy Newman, James Powell, Martin Price, Carol Remen, Jada Robitaille, Joanne Silvertrust,
Debby Richman Trachtenberg
Call to Order, Welcome, and Introduction
Association president Kate Morand called the meeting to order at 12:02 p.m. CST.
Kate offered an introduction to the ETHS Class of 1974 Reunion Association, and reiterated that all members of the ETHS Class of 1974 are members of the Association, as well as selected others. She urged all members of the association to join and update their contact information at the Association's web site, https://eths1974.com. The Association's Executive Committee is comprised of the four officers of the Association; Kate (President), Robert Gold (Vice President), Maria Gebhard (Secretary), and Mark Lipowicz (Treasurer), along with Diane Hermanek (Membership Chair), and Jada Robitaille (Logistics Chair).
Kate went on to share that the Executive Committee is already hard at work planning the 50th reunion for 2024. Kate noted that several members of the Association expressed an interest in volunteering when completing the survey that was completed in November of 2022, and that visits to prospective venues began over the summer of 2022.
Kate described objectives for 2023:
Determine the date of the reunion weekend
Determine the schedule of the reunion weekend
Select venue(s) and secure with deposit(s)
Continue to search for missing classmates and encourage them to join the web site
Recruit planners for small group events to take place during the reunion weekend
Maria Gebhard provided the minutes of the Association's 30 January 2022 Annual Meeting. Jada Robitaille offered a motion to adopt the minutes of the 2022 meeting, and Diane Hermanek seconded the motion. The minutes were adopted without discussion.
Kate offered to entertain a motion to approve the agenda for today's meeting, which was offered by Jada, and seconded by Debby Richman Trachtenberg. The agenda was approved without discussion.
Executive Committee Report
Kate began the Executive Committee report by expressing gratitude for the team, and detailed some of the considerable work that has already taken place. Kate reiterated the Executive Committee's ongoing efforts to foster diversity in its membership when recruiting new members.
Robert Gold added to the Executive Committee report by extending our welcome to the new faces attending today's meeting, as well as the new names and faces who participated in the survey. Bob pointed out that the Association has only one database, which is on our web site. He added that some classmates are on the Association's Facebook page, but not registered with the web site, and that some responded to the survey with a different email address than is found in the web site database. Bob confirmed that the Association has no connection with, nor receive data from classmates.com or the ETHS Alumni Association. Bob reinforced our policy to not spam our membership, nor to share data from our database with anyone outside the Association. He reiterated that classmates can control what data in the database is visible to other members of the class.
Richard Lynn asked about receiving solicitations for selling yearbooks. Bob confirmed that we're not connected with that promotional campaign, and encouraged classmates who do not wish to receive those solicitations to email that request to Richard Futransky of the ETHS Alumni Association.
Treasurer's Report
Mark Lipowicz (who was elected Treasurer at the January 2022 meeting) reported that elected Treasurer in January. With the help of outgoing Treasurer Wendy Oldeen and Association VP Bob Gold was added to the bank account by midyear and got access to prior financial records, and stated that all is in order.
The Association is solvent with $4,222 in the bank as of 31-Dec-2022 and with no liabilities. $502 is set aside in the grants fund. In FY 2022, the Association had $132 in expenses including a $100 donation to the ETHS Foundation, and income of $101 for donations to the grants fund.
The Association applied for a sales tax exemption from the State of Illinois on the basis of being an organization for senior citizens, which we all are, and were turned down. The state Revenue Dept. said it was because our main purpose was not to serve seniors and we are open only to some seniors. Mark suggested that the Executive Committee consider charitable donations by the Association. Bob pointed out that the 'grants fund' is to assist some classmates with the cost of reunion tickets, and separate from the charitable donations that have been made by the Association to the ETHS Educational Foundation.
Membership Committee Report
Bob briefly reviewed membership statistics which are little changed since the last statistics report.
Membership data as of 8 January 2023 (Δ from 30 January 2022)
467 (+2) joined web site
643 (-6) not joined
105 (+6) deceased
9 (+4) email bouncebacks (listed e-mail address invalid)
421 (+9) in ETHS Class of 1974 Facebook group
Membership chair Diane Hermanek emphasized the priority of finding missing classmates, and outreach activities. She shared her belief that many of our classmates don't know what the Association does, including its charitable contributions. An important part of her efforts include sending birthday greeting on the Association's Facebook page, and issued the call for updates when any classmate learns of the passing of our classmates. Bob highlighted the survey responses by so many willing to volunteer to help the Association's efforts, and said that prospective volunteers will be contacted.
Report on the 50th Reunion Planning Survey
Bob reviewed key findings point from the survey that was conducted in November of 2022. The 199 responses represent almost 44% of those joined in Class Creator, an outstanding response rate. There is considerable enthusiasm about the 2024 reunion; 67% of those responding say they will or are likely to attend, while 26% are unsure about attending. Significantly, 36 of those considering attending in 2024 are classmates who have attended only one past reunion, or none at all. About half of those responding to the survey live in the Chicago area, the remainder would travel from elsewhere in the U.S.
The most important questions on the survey had to do with identifying the best date for the 2024 reunion, with the knowledge that no date will satisfy everyone. Other factors that were noted about prospective dates were the availability of an ETHS campus tour (not possible until school is in session), and known dates for Northwestern football games. This and past surveys have made clear that our classmates are not interested in scheduling our reunion to coincide with ETHS's homecoming football weekend.
There were clear preferences for certain reunion activities, especially casual events like the pub crawl and the "main event" gathering that has been traditionally happened on the Saturday of reunion weekend. There was far greater interest in holding the main event in a community center or private club than in using a hotel ballroom, which is a very expensive option.
Logistics Committee Report
Logistics committee chair Jada Robitaille thanked the Executive Committee for conducting the survey that provided vital data for this effort.
Jada said that the weekend plan is for events on Friday, Saturday, and Sunday, and echoed the reality that decisions about dates and weekend structure won't please everyone, but that the goal is to maximize attendance at the reunion. Jada thanked Maria and Diane for their efforts to date to evaluate prospective venues, and previewed the fact that those attending this meeting will vote today on the Association's recommended date for the 2024 reunion.
Jada invited Diane to speak about two venues that are serious consideration. The most promising is the Glenview Park District's Park Center, at the Glen in Glenview. The venue is comfortable, beautifully built, cost effective, is ADA accessible, has plenty of spaces for smaller groups to congregate, and has a terrace looking over a lake behind the facility. Another promising venue is the Irish American Heritage Center on the northwest side of Chicago. Both facilities do many events each year, and they really know what they're doing. Other venues are also under consideration. Bob added that a question on the survey did not result in any new compelling candidate venues to be considered. Carol Remen asked about the Robert Crown Center in Evanston. Bob reported that he and Maria had visited the Crown Center on separate occasions, but that they wouldn't take reservation more than six months in advance. Double Clutch Brewery was ruled out because of capacity and cost concerns.
Jada related that one prospective date was a clear favorite on the survey: Thursday through Sunday September 12-15, 2024, and that a school tour is expected to be available that weekend. This recommendation by the Association also avoids conflicts with known Northwestern games, as well as religious holidays later in September. Jada opened up voting to all those on the Zoom call, with a single question: "Shall the ETHS Class of 1974 Reunion Association schedule its 50th reunion for the weekend including Saturday, September 14, 2024?" Responses were limited to yes and no. When voting concluded 13 'yes' votes and zero 'no' votes were recorded. Bob reported that of those on the Zoom call, only one person did not vote.
Kate confirmed that the proposed date is agreed.
Open Discussion
Richard Lynn thanked the committee for its work, and endorsed the Park Center at the Glen as a venue choice. Carol Remen spoke of her current residence in Glenview, and of the desirability of the Park Center. Jada spoke of our contacts with counterparts in associations for ETHS classes of 1971, 1972 had 50th reunion plans disrupted by the pandemic, and that Jada is in touch with the class of 1973 that is holding its 50th this year. Mark raised the possibility of one or more class gifts to the school, perhaps including an art work by one of our classmates. Additional discussion on class gifts ensued. Maria noted that so far, at least fourteen venues have been visited. Ellen Byrne suggested that the list of visited sites be published, in keeping with the Association's intent on transparency. Kate confirmed that noted key decisions, like budget and reserving a venue with a deposit, are handled at the Executive Committee level of the Association. Additional discussion on a variety of topics ensued.
Adjournment
With a unanimous vote, Kate adjourned the meeting at 1:19 p.m. CST.